Awnings Melbourne
Quality Awnings at Affordable Prices
At Awnings Melbourne we are determined to provide our customers with the highest quality awnings at the best prices. We have a wide selection of designs, styles and colours all available with optional extras such as lighting and motorised systems, our range is suitable for residential, hotels and commercial applications.
We provide free home visits with one of our experienced staff to help find the right look for your home, or you can come into showroom and browse our extensive product range. Our team of specialists can offer you advice on designs, colours, prices, and more to help you find the awning that perfectly fits not only your home but your lifestyle.
With experienced and trained specialists all of your products are measured and installed by a trained installation team ensure you are given highest quality service and Awnings Melbourne experience.
When we say we have a wide selection of products to fit a variety of application we aren't messing around. From school yard shading solutions to retractable awnings for your home, whether it be residential or commercial Awnings Melbourne have you covered! Call us today to find out what we can do for you!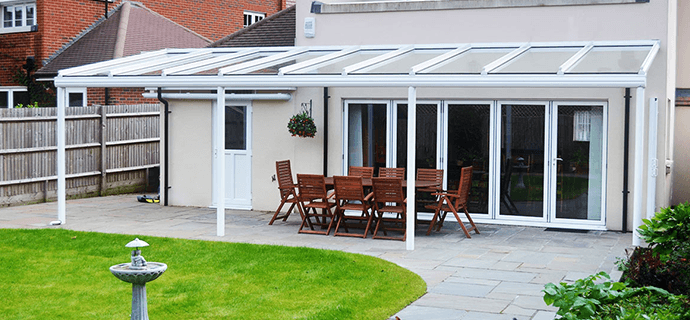 At Awnings Melbourne we can guarantee that our Patio Awnings have more structural strength then you will find in the market. With a wide range of shading solutions to choose from, the options are endless at Awnings Melbourne when it comes to complimenting your home with a patio awning. With the highest quality products, our beautiful, professionally designed range of patio awnings are able to withstand Australia's demanding environment.

At Awnings Melbourne our wide selection of conservatory awnings ensure that you can take full advantage of your conservatory all year round. Our conservatory awnings are architecturally designed to not only to provide the ideal shading solution but to also compliment the aesthetics of your home.
Our conservatory awnings are expertly made to ensure not only comfort and style but most importantly durability.

Retractable roof awnings are the most suitable solution for any large commercial projects or small residential applications. Retractable roof awnings offer more flexibility throughout the year. At Awnings Melbourne we offer various models and a wide selection of design options.
Our range of retractable roof awnings are quality tested to ensure you are not disappointed with your retractable roof awning installation. We are one of the best when it comes to retractable roof awnings.
With our modern designed roof awnings our customers no longer have to choose between shade and sunlight. Our quality roof awnings are the ideal outdoor structure specifically designed to provide shelter from the sun or rain.
Our quality roof awnings installed in any home or business to shelter any window, deck and balcony. Our roof awnings offer you complete control of shade and light as well as providing ventilation and rain protection. With a wide range of stylish roof awnings built to the highest quality, we can custom design a modern roof awnings that will compliment you outdoor area.

The versatility and outstanding quality of our wide range of roof top awnings means we can meet the requirements of any customer, whether it be residential or commercial. At Awnings Melbourne we can keep the sun and rain off your selected areas by fitting a variety of different roof top awnings.
Our staff are dedicated to going that extra mile to ensure complete customer satisfaction.

With advanced technology our customers can now choose to have their awnings motorised. Motorised awnings are quickly becoming the popular choice for people in need of shading solutions, this is due to their convenience, effective filtering of sunlight and beautiful architectural designs.
Whether you're after extra shade for your home's outdoor area or you're in need of a shading solution for your bar or restaurant Awnings Melbourne are the experts you can rely on.

With the use of the highest quality materials our folding arm awnings can withstand the harsh Australian sun, and anything else Mother Nature throws at it. By installing our quality folding arm awnings to your home or business you are taking control of the level of sunlight and breeze entering your home or outdoor entertaining area. Folding arm awnings give you the flexibility to enjoy your outdoor area all year round.

At Awnings Melbourne we can also offer a range of extras including motorised retractable awnings that can provide you with protection from harmful UV Rays and excessive heat at just the touch of a button.
Providing quality retractable awnings for residents and businesses all over Melbourne we make it our mission to custom build top quality retractable awnings to match our customer's needs.
Don't wait any longer, with a quality awnings installed, your outdoor area can be the ideal place for gatherings and you can become the perfect host for friends and family! All you need to do is pick up the phone and call us today at 02 9806 8002!