Patio Awnings Melbourne
Adding one of our Patio awnings to your courtyard or patio is the perfect way to create a stylish outdoor entertaining and living area whilst protecting family and friends from the harsh Australian sun. Our patio awnings come with designer UV protection and can be fitted with optional extras including lighting and motorised systems. With an extensive range of colours and designs to choose from, your outdoor living space can complement the design of your home.
Awnings Melbourne is a leading supplier of high quality patio awnings, servicing throughout Melbourne. We stock only the best brands this country has to offer, and all products are made to withstand the harsh Australian Climates. Awnings Melbourne supply and install a wide range of custom awnings for patios. We have the capabilities to expand your entertaining possibilities.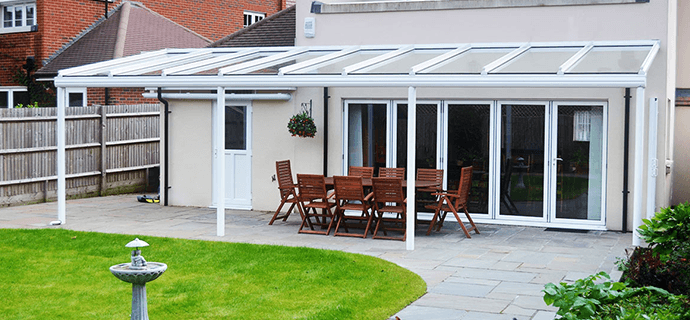 Patios with strength and integrity
Over the years Awnings Melbourne have gained an enviable reputation for quality products and exceptional service. Our products have been used in homes, schools, public spaces and shopping centers all over Melbourne. Our patio awnings can be manufactured in variety of thicknesses to provide increased spans and thermal efficiencies.
At Awnings Melbourne you can be sure that our patio awnings offer more structural strength and integrity than any others. This is because we only use the most advanced and top quality material and technology when creating your patio, we also offer lesser heat absorption. Add pleasure to your lifestyle and value to your home or business property with a durable, low maintenance patio awning. Your outdoor living space can complement the design of your home – smart awnings, smart solutions.
Built strong and built right using the premium quality products, our attractive, professionally engineered range of patios awnings will withstand Australia's demanding environment and allow you and your family to entertain and enjoy a stylish outdoor lifestyle at home. Each of our patio awnings for sale is designed with flexibility and versatile outdoor space creation in mind.
Whether you're after extra shade to make your home or office cooler, we can custom build a top quality patio awning to match your needs and specific commercial or body corporate requirements. Building managers and other parties can access quotes for outdoor awnings any time, without having to visit an outlet- making it extra convenient to plan the overall improvement project.
Our goal is to supply a quality patio product that compliments the style of your home. We want your Awnings Melbourne experience to not only be rewarding at the end of the patio awning installation, but want you to feel safe in the knowledge that you have chosen a product which is strong and durable and built to withstand the tough Australian conditions. Awnings Melbourne also provides a variety of other awnings, including retractable awnings.
Outstanding Customer Service
From business organizations to private living, Awnings Melbourne offer patio awnings that are adaptable to any Melbourne property holder. We are capable of catering to the needs of our customers, and provide a collection of awnings to match the desired sizes, shapes and designs our clients are searching for.
We pride ourselves when it comes to providing our customers with the highest quality service. We give you the chance to browse through our wide-ranging products in our showroom, or take advantage of our free consultation from the convenience of your home, where you will receive complimentary advice, measuring and quotations.
For a stylish outdoor entertaining area look no further than Awnings Melbourne. Impress your family and friends with one of our quality built patio awnings. We have consistently grown our business on the values of exceptional customer service and quality of workmanship using only the finest materials. Our patio awnings can add value and stunning architectural effect to your home.
We don't believe that protection from the elements needs to come at an over the top price. This is why we have set fair prices for our customers, and when you look around at all the other companies in Melbourne, you'll realise just how competitive we truly are. We will be able to provide you with information about awnings that fit your lifestyle, home and budget. With so many options to consider when choosing the right awnings you may feel a little overwhelmed. To help you select the best solution for your home our professional staff will be by your side every step of the way.
At Awnings Melbourne we understand how difficult it can be to find patio awnings that combine quality, style and affordability in Melbourne. This is why we want to make sure that we can provide you with the highest quality products in both style and performance at an affordable price. By combining top quality patio awnings and unbeatable prices we are the leading company in Melbourne when it comes to awnings.
Our staff are committed to doing everything necessary to satisfy our customer's requirements. Our range of quality tested products, together with our professional and personal service ensures we are one of the market leaders in the distribution of patio awnings. Don't wait any longer, call us today at 02 9806 8002!